Going Green: A Commitment to the Future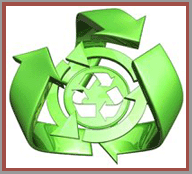 By making small changes in our operating procedures, we at Rudy's Inflight can make substantial improvements to the environment by following some basic ecologically friendly protocol. Combining the ideas of conservationism and more efficient business practices, we would like to do our part to contribute to a greener tomorrow. Some quick and frightening facts such as: Americans throw away 25 billion styrofoam coffee cups every year or eighty-four percent of society's waste including food scraps, paper, cardboard, cans and bottles can all be recycled, truly demonstrates how influential a part we here at Rudy's can play in making contributions to this effort.
Many times lack of knowledge plays a role in businesses not being able to do its part. We have begun to look at this situation as an opportunity to give back to our community and ultimately our environment. By attending such events as the Catersource Tradeshow and taking classes on various "eco-responsible" topics, we have expanded our knowledge and truly gained an understanding of how we as a company will be able to contribute to an environmentally friendly future. By definition the term "going green" means to follow practices that can show the way to a more ecologically friendly lifestyle in which will help shield the environment from continued harm and help maintain its natural resources for the future. By gaining a concept of what this means to us here at Rudy's, we have taken strides to become more environmentally conscious by making a commitment to broaden our overall menu of choices to include the growing trend of organic food products. In addition, in an attempt to minimize an overabundance of fuel use, Rudy's has worked hard to consolidate our delivery schedule and truly maximize each of our shipments. While doing this, we have made the switch from large vans to smaller more fuel friendly vehicles. With our facility being a 24/7 operation, energy efficiency in our kitchen is key. By keeping our refrigeration system at the correct temperature and making sure all our refrigeration systems are sealed properly we try and make sure our kitchen is running as proficiently as possible. Additionally, at our facility we have instated a recycling program that can help cut back on unnecessary waste.
With the continued rise in attention towards the "go green" concept, we here at Rudy's not only embrace this philosophy, but also associate ourselves with fellow vendors that share the same beliefs. With the mindset that small steps provide big rewards, we as a company will continue to grow and take the necessary steps to be a "go green" business dedicated to serving the needs of our clients and the community we share.