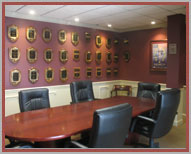 Always at your service, our dedicated team of employees have been working around the clock to provide an elevated level of quality and value for our customers. Built upon the premise that communication, service, and food safety are the foundations for our company's continued success and growth, Rudy's Inflight has worked hard to continually raise the standards of corporate aircraft catering.

One crucial step in this process is the selection of our vendors. The final product we deliver can only be as good as the raw goods we begin with. Our staff carefully chooses each and every vendor, and based on the relationships that have blossomed over the years, we have continued to use some of our vendors for the past 25 years.

Valuing the importance of food safety, all three of our facilities are inspected by the FDA, being USDA certified kitchens. In addition, we have taken the necessary means to voluntarily become HACCP compliant. By fulfilling the requirements of the HACCP, we have ensured our equipment, as well as staff continually meet the necessary means to achieve the utmost standards in food safety. We adhere to a strict set of rules and guidelines that guarantee that all food products that leave our facilities are handled in a safe manner. There is no tolerance for any deviations from these rules and we believe that the end result is a better, safer product for our clients.

In order to accommodate the needs of our diverse cliental and to alleviate any confusion, listed below is a link to our cancellation policy where we have outlined the time frame in which orders must be cancelled.

At Rudy's we strive to meet and exceed our client's diverse set of needs. In order to achieve this feat, here are some of the specialty items we provide our customers here at Rudy's Inflight Catering. In addition to these items, we also welcome special requests.

Continuing to expand our services, Rudy's Inflight now offers to our clients an onsite linen service. Constantly seeking to offer convenience, Rudy's offers a same day wash and fold as well as professional dry cleaning. Please inquire about our new specialty services to learn more about other conveniences we offer to our customers.
Our specialty services:
•
Onsite, Same Day Linen Service
•
Fresh Flowers and Arrangements
•
Kosher Food Selections
•
Chinese Food
•
Pizza
•
Thai Food
•
Indian Cuisine
•
Japanese Food
•
Sushi and Sashimi Platters
•
Printed, Customized Menus
•
DVD's and CD's
•
VHS Movies
•
Birthday Cakes
•
Glassware and China
•
Full line of Cabin Amenities
•
Extensive Wine and Alcohol Selections
•
Foreign and Domestic Magazines and Newspapers
•
Customized Gift Baskets
•
Dry Ice
•
Wide Body High Loader for High Density Aircrafts
•
TSA Custom Seal
•
USDA International Trash Removal Compliance Agreement