Rudy's Report
Quality you can't put a price on:
Voted #1 for the 28th Consecutive Year
The votes are in and we're so proud and honored that for the 28th consecutive year the people's vote that really counts, you our clients, have named Rudy's Teterboro facility with top catering honors based on the 2016 Professional Pilot PRASE Survey. Working hard to continually present our clients with the highest quality of goods and service, we at Rudy's are committed to working closely with our customers to ensure your business gets the utmost service and products attainable. Pleased to be the recipient of these accolades in the Northeast Region, Rudy's Teterboro, New Jersey facility received first place honors, our White Plains, New York facility received 2nd place honors, and our Chantilly, Virginia facility received 1st place accolades as well for the Middle Atlantic Region. Striving on a daily basis to ensure our customer service is unparalleled and our products are top of the line, we are flattered to have received these awards. We at Rudy's value your business and look forward for the opportunity to assist you with your fine-dining needs in the future.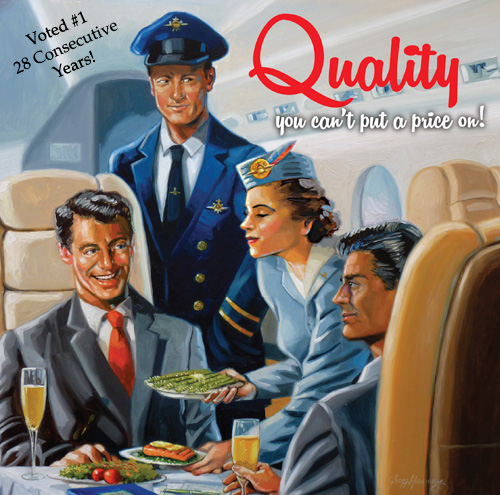 ---
Always Focused on our Number 1 Goal:
Superior Service for our Valued Customer
Since our last update, many new and exciting events and opportunities have occurred for us here at Rudy's. In our last log we began to touch upon our expansion efforts in the Washington, D.C. area. Since opening our facility in January of 2005, we have experienced numerous successes. With our focus in the beginning primarily on order precision, we knew order volume would soon follow in time and indeed it did. After gaining a feel for our new market, we began to develop bonds with our clients as well as vendors in the area that would be needed for long term success. Servicing such airports as BWI, DCA, HEF, IAD, JYO, MTN, and GAI our DC facility has far exceeded all of our expectations during this period. Realizing our market and growth opportunities, we have continued to expand and now have outgrown our original facility. Seeing the need for not only expanding our staff, we began to see that space was a growing issue as well. With this new concern, we were brought back to square one of finding a larger structure that would suit our expanding needs. With significant amounts of time and energy into the selection of a new facility, we found a 9,000 square foot structure located 5 miles from the airport in Chantilly, Virginia. Keeping the ball rolling, construction has begun on this facility and we are excited for the new opportunities that will be associated with this venture.
In addition to our expansion efforts at our DC facility, we have also continued to improve upon the successes experienced at our Teterboro office. With a growing locker program as well as the need for supplies to be purchased in bulk, we realized our space here was not accommodating to our growing needs. So with this growth, we saw opportunity, and decided to expand our Teterboro kitchen to include an 8,000 square foot warehouse located in the Teterboro vicinity. With the additional space, we are currently able to house our ongoing list of stock products and add additional services to fit the needs of our clients.
With growth comes concern, but here at Rudy's we have worked hard to ensure that these were the correct opportunities for us to invest our energies in. So with time, dedication, and many years experience in this field we at Rudy's have worked hard to continually expand to fit the needs of our diverse cliental. As always with new endeavors and expansion opportunities such as these comes new goals, clients, and business decisions, but we here at Rudy's look to continually grow and embrace the opportunities that we have experienced thus far.
| | |
| --- | --- |
| | |
| Teterboro Vicinity | Chantilly, Virginia |